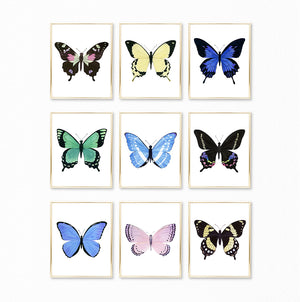 Watercolor Butterfly Paintings - Collection of 9 Art Prints
Sale price Price $540.00 Regular price Unit price / per
PRODUCT DESCRIPTION
A collection of 9 watercolor butterfly paintings (art prints). The ultimate gallery wall for nature and butterfly enthusiasts. Butterflies and their ethereal nature and iridescence have always been an inspiration. Each watercolor painting in this collection captures the beautiful colors, shapes, and patterns of exotic butterflies from all over the world.
Original watercolor paintings of:
Papilio ulysses butterfly (dark blue + black; from Australia)
Papilio homerus butterfly (black and yellow with red and blue spots; from Jamaica)
Morpho menelaus butterfly (light blue iridescent; from South America)
Papilio krishna butterfly (black and rainbow; from India & Myanmar)
Graphium weiskei butterfly (red, green, purple, brown; from New Guinea)
Papilio lorquinianus Butterfly (green; from Indonesia)
Morpho cypris butterfly (light blue and white iridescent; from Central & South America)
Papilio dardanus butterfly (black and yellow; from Southern Africa)
Crenis pechueli butterfly (pink and purple; from Central Africa)
Luxe Print: Professionally printed on premium archival paper using ultra luxe fine art printing technique (Giclee) to reproduce color and retain the look and feel of original paintings. 100% cotton paper, matte finish, acid-free.
Original painting details: 11x15" Arches cold press watercolor paper; premium watercolor paints
Frame(s) not included; pictured for illustrative purposes only.